seca increases production capacities for system-relevant medical technology
Supply of hospitals, emergency departments and medical practices has the highest priority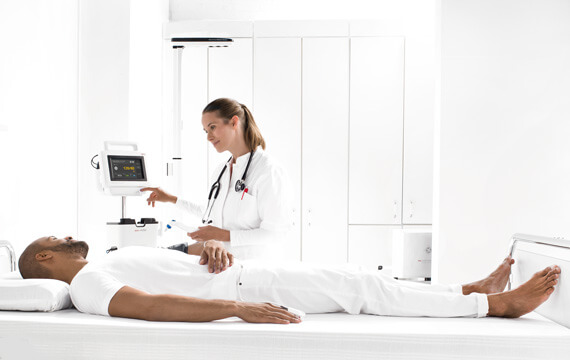 Particularly in the current critical situation, doctors need exact information about the health status of their patients, for example to calculate the tidal volume settings for ventilators and the dosage of anesthetics. Reliable measurement of vital signs such as temperature, oxygen saturation, blood pressure and heart rate are also essential for monitoring in emergency rooms, outpatient clinics, doctors' offices and hospitals.
seca has taken measures to increase production capacity for medical scales and vital signs monitors. The safety of the employees in the production facilities has the highest priority. For example, they all wear breathing masks and work in a two-shift system to minimize contact in the production site. "Our employees know how important it is to keep production going right now," says Frederik Vogel, Managing Director Technology at seca. "We would like to thank everyone for their willingness to make this contribution and for their cautiousness in their daily work".
The company will continue to review and implement all measures to ensure the ability to supply its medical products and to support healthcare systems worldwide in the fight against the corona virus.


Press Contact seca gmbh & co. kg
Stefan Beyer, Head of Multi-Channel-Marketing
e-mail: stefan.beyer@seca.com
Tel.: +49 40 20 00 00 425
www.seca.com
seca – precision for health
seca has been perfecting the skill of developing innovative weighing technologies and combining them with practice-oriented functions since 1840 and has become the worldwide market leader in the field of medical measuring and weighing. Apart from their sale in 16 branch offices, seca measuring systems and scales are also exported to over 110 countries. In addition, the seca service network guarantees the continual servicing of the precision devices. seca maintains close contact with users in order to support doctors and medical staff as professionally as possible. The result is innovative products that are customized to individual medical application areas such as interlinked weighing stations that communicate with each other, service and software systems that facilitate daily life in medicine and medical Body Composition Analyzers (mBCA) which revolutionize the possibility of diagnostics and therapy by use of bioelectrical impedance analysis. In doing so, the most advanced production techniques, durable materials, and worldwide quality management guarantee a product standard of the highest level.