People who make seca successful.
What they do. Who they are.
Ilka Balsliemke
Quality Management Representative
As a Quality Management Representative you are responsible for ensuring that seca maintains the high standard of quality to which it has committed itself each and every day. You ensure that all processes and products meet the high internal requirements as well as the legal guidelines.
Ilka Balsliemke has been responsible for quality management at seca since November 2011. After studying Medical Technology with a concentration on quality and safety engineering she initially worked for a manufacturer of medical engineering products. She is responsible for ensuring compliance with the demanding quality guidelines and developing them further as soon as seca embarks on new paths. The quality management system (QMS) must be adjusted when the highly innovative company expands into other markets or creates new product categories, for example.
"In such cases our task is first to review all of the regulatory requirements. We then implement these and expand our QMS accordingly. It is a great challenge but also a great feeling of success when we have accomplished it once again!"
Ilka Balsliemke also supervises internal and external audits and makes sure that the documents required for the certifications are created. In her eyes seca is also an interesting employer because quality is lived out here and all of the areas work closely together in order to meet their own high demands.
---
Henning-Hoa Tran
Production Specialist
As a production specialist, with every action you make a decisive contribution to seca offering products of the highest quality. You work at various assembly islands, assemble and calibrate our scales, check the functionality of the end products, and are responsible for the labeling and packaging of our products.
Henning-Hoa Tran has been working in Production at seca since November 1983 already. When he came to Germany from his native Vietnam he first spent a year intensively learning German and then worked for a large circuit board manufacturer. Today he primarily assembles electronic baby scales and flat scales at seca. His precision and care are required when he solders circuit boards, wires the electronic components, and finally checks whether everything functions perfectly.
"The work at the various assembly islands adds a lot of variety to my job. Apart from that I also have nice colleagues with whom I get along well." The products and work processes have changed greatly since he started working for the company. In addition to well thought-out mechanics, today sophisticated electronics and software also ensure that the scales function with absolute precision. There is thereby always something new to learn for Henning-Hoa Tran. He enjoys that in particular and still thinks that his position with seca is "great", even after nearly 33 years.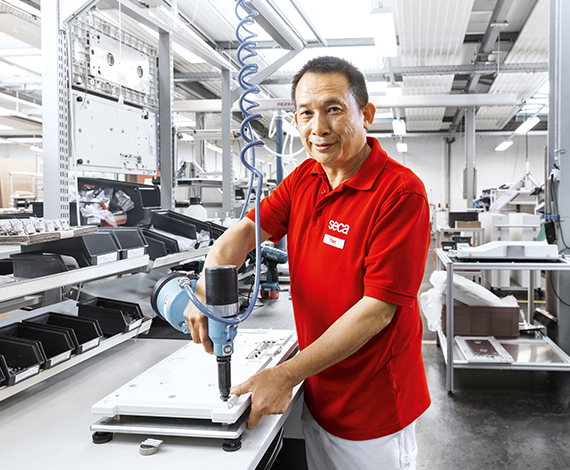 ---
Antonio Cordova
General Manager
As General Manager of an international branch you have the great opportunity to perpetuate seca's course of growth in your area of operation. Together with your team you develop and implement regional sales and marketing strategies. Your tasks include both the introduction of innovative products and services as well as the training and support of retailers and business partners on location.
Antonio Cordova has had an impressive career since joining seca in July 2011. He first started as Junior Area Sales Manager for Central America at the Hamburg location. Since November 2015 he has been managing the new seca branch in Colombia and is promoting the expansion of the Latin American market in addition to the existing locations in Brazil and Mexico. His work alternates between Hamburg and Colombia for this. Antonio Cordova finds his job ideal because he greatly enjoys traveling and negotiating with important decision-makers.
"What am I especially proud of? I succeeded in arranging a long-term cooperation with Colombia's Ministry of Health and Social Protection. Today we supply precision scales and measuring rods for a countrywide government nutrition program. seca is therefore present everywhere and has become the market leader in the meantime. That's great!" seca is the ideal employer for Antonio Cordova. He has a lot of room for his ideas and also receives comprehensive support from the company in terms of marketing, logistics, and technical service.
---
Joachim Falk
Service Technician
As a Service Technician your work directly impacts the satisfaction of our customers. You are responsible for the repairs of our products in-house at the Hamburg location. This work requires you to have an instinct for technology and to enjoy interacting with our customers.
Joachim Falk came to seca in 1981 directly after completing his training as a precision mechanic and first worked in Production. There he got to know all of the products down to the last detail while perfecting his electronic know-how at the same time. After working for a different company for five years, Joachim Falk returned to seca in 2001 and began working in the in-house Technical Service department at the Hamburg location.
Together with his colleagues he is responsible for all of the repairs of seca products that come in there. He even works on defective scales from other manufacturers, though. In most cases a routine maneuver is enough to immediately correct the defect. Now and then his investigative skill is required to find out where a defect is precisely hidden. He then consults the Development department or a software specialist and they solve the problem together. Joachim Falk also works internationally and advises technicians and partners in 15 countries by computer or telephone. "Our main goal at seca is customer satisfaction and we are all happy to work hard for this. Naturally that also contributes to a good team spirit!"
---
Kirsten Huß
Project Manager Research & Development
As Project Manager Research & Development you initiate innovation projects and work to turn innovative ideas into marketable products of the highest precision and quality.
Before coming to seca in October 2011, Kirsten Huß obtained a degree in Mechanical Engineering and worked as a design manager for an airline. She has her finger on the pulse of the innovation process in the Research & Development department. As Project Manager she coordinates the development of new products there – all the way from the idea to the product launch. The central question is always the same: Which features make it easier for users to do their work even better?
Kirsten Huß's tasks include checking the feasibility of the product concept while still in its rough initial stage and defining the effort, costs, and risks for product development. She then plans and manages the cooperation of all those involved.
"One thing I really like is that innovation is not just a buzzword at seca. Here the intent really is to help shape the future. We are a great team with the best technical equipment and if important decisions have to be made quickly, then I can go directly to the office of our Managing Director Frederik Vogel to get the go-ahead. We are the worldwide market leader for good reason."