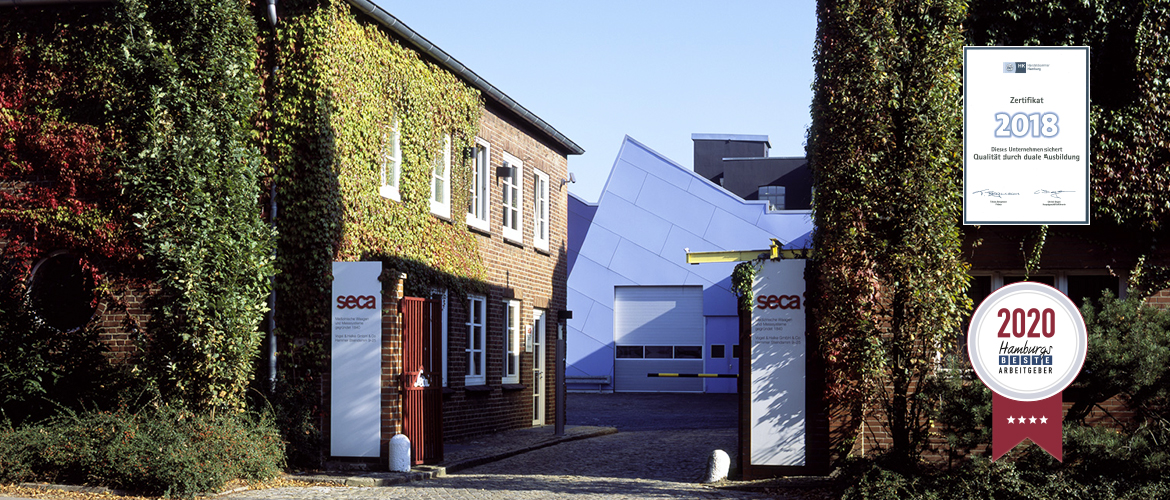 Our benefits
We've got a lot to offer!
Do you appreciate flat hierarchies and want to put your good ideas into action in a motivated team? Then you will be very welcome with us!
seca offers the best opportunities for new employees from the widest variety of professions in its headquarters in Hamburg as well as numerous branches worldwide. As a company that is active worldwide, we live out cultural diversity and speak 20 different languages here at our location in Hamburg alone. We know from our many years of experience that our international success is based on employees of different nationalities who bring their cultural know-how to us.
Would you like to work in a building with modern open architecture in the cosmopolitan city of Hamburg? Then find out more about our corporate headquarters in urban Wandsbek. The location offers good shopping and is well connected to the public transportation network. From there you can quickly and easily reach the city center of Hamburg as well as the Alster or the Elbe with the underground or rapid-transit railway system.
seca offers you even more
Flexible working hours
Company pension scheme
Health care
External and internal continuing education
HVV Proficard - job ticket for the Hamburg railway system
On-site parking spaces
Various employee events
"Fahrradspaß" ("Cycling Fun") campaign – those who travel in an environmentally friendly way can even win something
seca Goodiecard – for accessing offers in and around Hamburg
Internal lecture series – expert presentations on selected topics
If you already have the feeling that this could fit you, well then we should definitely get to know each other!
---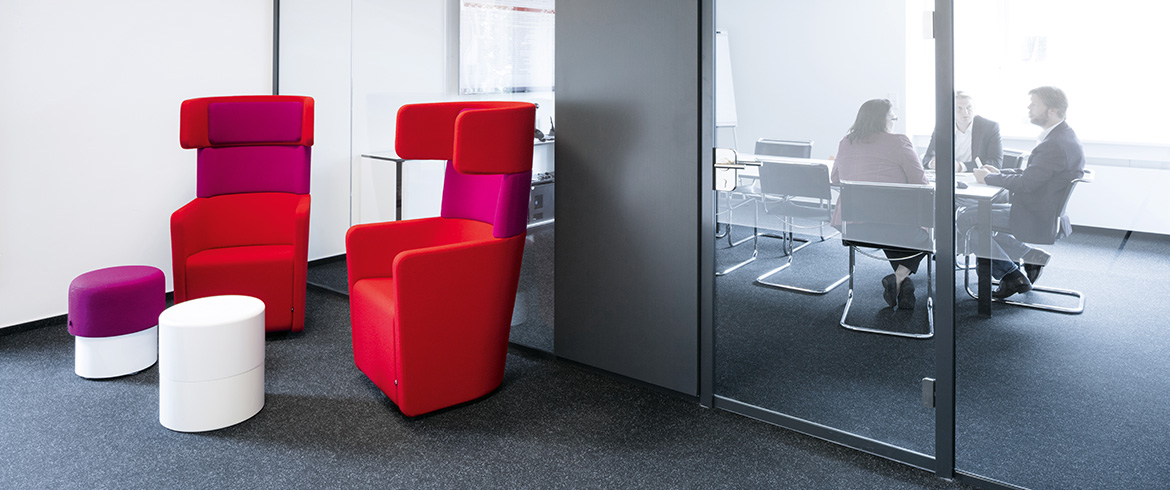 A place for working and for wellbeing:
How about it?
We make sure that you are working in an aesthetic environment. That is why design plays such an important role at seca. Not just with our products, but also in our architecture and technology. From the modern design of the company headquarters to red chairs designed by Vitra to individually created paintings. At seca each detail is coordinated with each other throughout the entire company.
The company headquarters' buildings in Hamburg, some of which are more than 100 years old, were refurbished so carefully that the old charm remained.
Progress dominates on the inside, whether for a spontaneously arranged video conference with colleagues from the branch in Japan or Dubai or for a meeting that demands the most advanced presentation options.
Large glass fronts and an open interior design provide a true sense of community among the employees of all departments all the way to the production department in the high-ceilinged hall flooded with light.
seca also offers regular health checks and preventative measures so that you come to work healthy every day.
---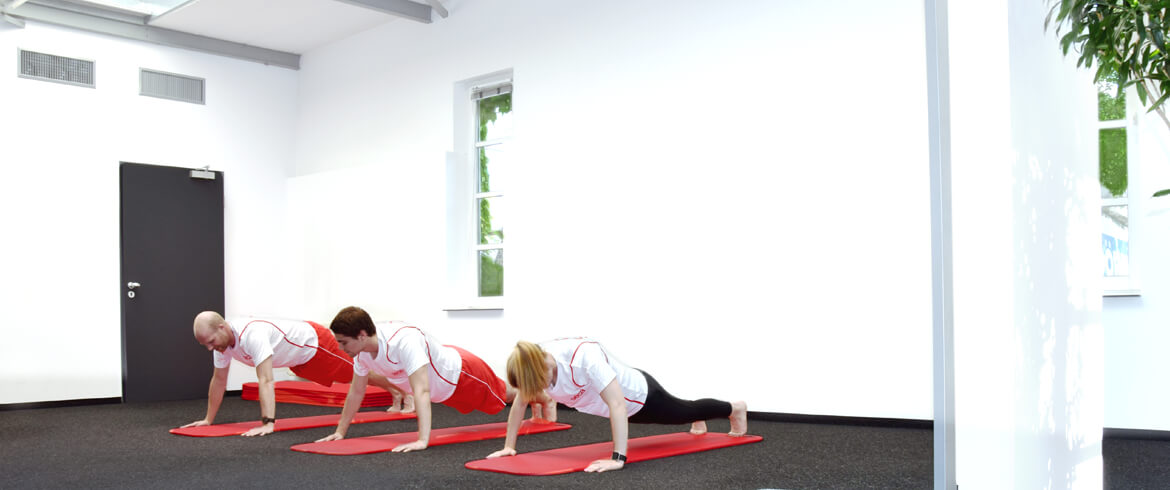 seca | fit
Everyone is happy to go one step further with us.
Humans need physical exercise, good nutrition and mental strength to ensure their well-being and good health. With seca fit, we offer our employees a highly varied, attractive offering in these areas.
Every week our employees have the chance to take part in our free seca workout. Our professional fitness trainer offers focused and diversified group training in which he also attends to the individual needs of the participants.
We think it's great when our employees get involved in sports. We're even more impressed when they regularly prove themselves under competitive conditions. Whether alone or part of seca teamsport, our employees can take part in many different sports events. The expenses for contestants' competitive clothing are paid by seca sponsoring.
---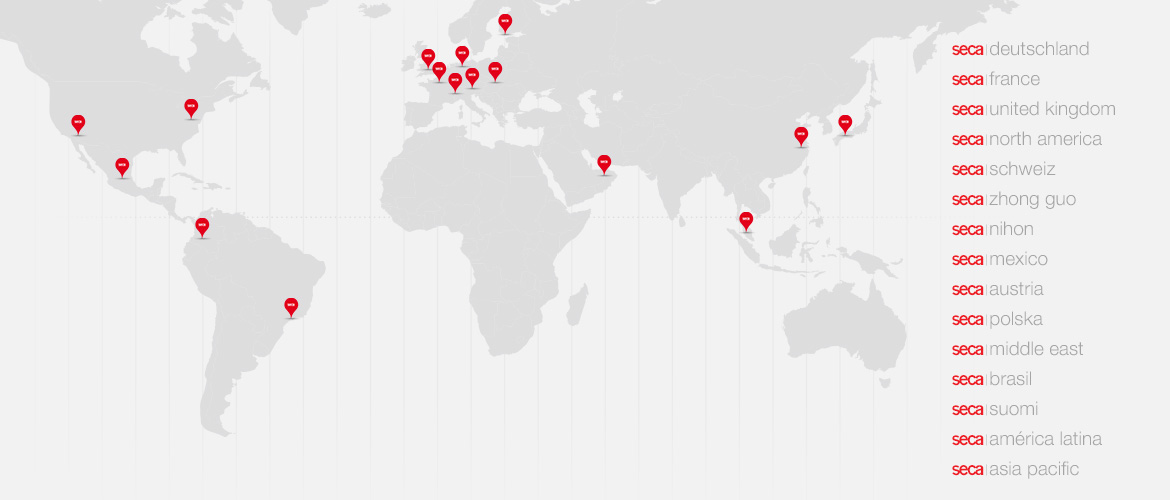 Conquering the world with seca.
As early as tomorrow!
From America to Asia – As the worldwide market leader we are internationally successful with 15 branches and approximately 500 employees in total.
Doctors and medical professionals in over 110 countries rely on our premium measuring systems and scales. In order to serve the rising global need for our products, seca will open further branches and tap into new business markets in the future as well.
For this we need highly qualified, committed, and creative employees who wish to grow together with us. Namely people just like you.