The seca mBCA can do it all! Included with the body composition analyzer you will receive the seca analytics 115 PC software that offers you endless support. For it is only with this comprehensive tool that you can follow the course of development of your patient's values across multiple measurement parameters.
---
seca analytics 115
Medical PC software for diagnostic assistance.
The PC software seca analytics mBCA 115 adds several functions to the seca mBCA. With these functions data and measurements can be integrated in almost any Electronic Medical Record (EMR) system and formatted in a clear printout for the doctor to use in a patient consultation.
One of these functions allows the device to transfer data and measurements wirelessly into any Electronic Medical Record (EMR) system. The software also offers the Cardiometabolic Risk module, a therapy planner for dieting and the option of compiling and printing a patient's examination results. The software output is of great help to the doctor during post-examination consultation with the patient.
More concise: All results now on a one page printout.
Even clearer: Optimized design with new elements for unambiguous interpretation of result charts and measurements.
More definitive: Information on total muscle mass and individual muscle mass for all extremities (left and right arm, left and right leg) – and now also for the torso.
Even more conclusive: Depiction of phase angle for prediction of health risks, now available with chronological progress.
Even faster:

Directprint function with simple press of a key

(seca analytics 115).
With so much information, a clear and understandable overview helps. With the click of a button you can simplify your workload by printing an easy-to-read one-page summary of results for your patients.
---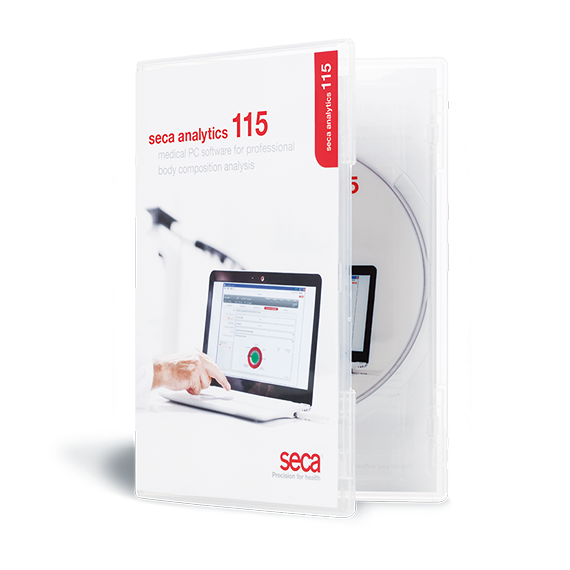 Further benefits of the seca analytics 115
at a glance:
Monitor and respond to the course of therapy.
Save the results of routine measurements and observe how certain measurement values of your patient develop over the course of time. This will enable you to monitor the success of therapy or respond to unexpected developments.
Compatible with your health records system.
Transfer data smoothly to your EMR via CSV file, GDT, HL7, or XML format.
Choose how you want to save the data

.


Each workstation has its own requirements, therefore you can transfer data from your seca mBCA via USB stick, cable, or wireless data transmission.
One seca mBCA for multiple workstations.
With additional software licenses you can access the measurement results of a single seca mBCA from multiple PCs.
Quick access to patient data.
Quickly upload patient data to the seca mBCA – enter it directly using the touchscreen display, upload it from your PC or via a barcode scanner connected to the USB port.
---
seca analytics 115.
Product video.