seca 634
Platform and bariatric scales
This battery-operated digital scale has been especially developed for weighing obese users, with a weighing range of up to 360 kg and a non-slip 56 x 56 cm platform, only 5.5 cm high– a sturdy base for overweight or obese users. A chair may also be used on the scale and will not influence the weighing result due to the pre-TARE function. The cable remote display (cable length: 2.5 m) with easy-to-read LCD can be held, wall-mounted or placed on a table. The 100 g graduation means that the smallest changes in weight are registered, even after the user has left the scale – thanks to the auto-HOLD function. The integrated Body Mass Index (BMI) function and the seca 360° wireless technology, which can be used to transmit the measurements to a seca wireless printer or PC at the push of a button emphasises the many uses of this unique multi-functional scale.
---
Product information.
Technical product data and support.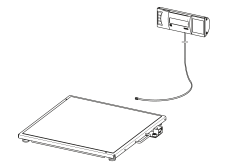 Technical Data
| | |
| --- | --- |
| Capacity: | 360 kg |
| Graduation (g): | 50 g |
| Power supply: | Battery, Power adapter |
| Measure (W x H x D): | 640 x 53 x 600 mm |
| Net weight: | 14,4 kg |
| Functions and Properties: | PRINT, Overload protection, Auto-PRINT, Transport custors, TARE, Auto-clear, Pre-TARE, HOLD, Auto-HOLD, BMI, kg/lbs/sts switch-over, Automatic switch-off, Wireless interface, SEND, RESET, Damping, Auto-SEND |
| CE: | CE 0123 |
More products / system compatible products.
Expand your seca products.