World Obesity Day 2018 –
"The improvement in body composition is more important than weight loss alone."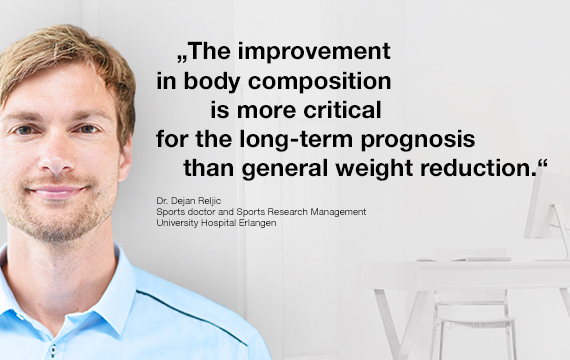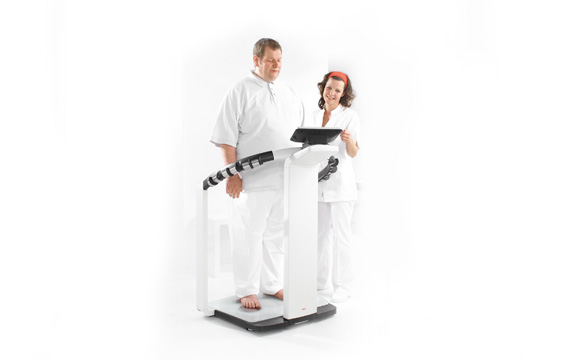 "The results are common for individuals affected by obesity," says Dr. Heike Niemeier, a nutritionist who holds a doctorate in ecotrophology. "The media and society suggest that it is possible with enough discipline and crash diets to lose a lot of weight quickly and then keep it off long term. Such unrealistic expectations often lead to frustration accompanied by low self-esteem and self-efficacy."

Survey subjects overrate the number on the scale; quantifying the fat mass is crucialOften, individuals affected by obesity are demotivated most when the scale shows hardly any change despite their efforts (40%). The absolute weight, however, says little about general health status or how to make a successful change of diet. After all, the one-dimensional view of weight in pounds does not consider the body composition of muscle, water and fat. "It is important to quantify the fat mass in patients affected by obesity in order to set a goal and increase the patient's motivation with measurements and visualization of body composition over the course of treatment," says Prof. Dr. med. Yurdagül Zopf, Doctor of nutritional medicine of the University Hospital Erlangen. His colleague and sports doctor Dr. Dejan Reljic added, "The improvement in body composition is more important for long-term prognosis and a decrease of subsequent diseases than overall weight reduction."

Knowledge and visible success are top motivatorsStefanie Wirtz from the Selbsthilfeverband AdipositasHilfe Deutschland e.V. and Coordinator of the Adipositaszentrum Lüneburg emphasized how important body composition information is for obesity therapy and motivation. She stated, "When patients know how their bodies are composed of water, muscle and fat, they are more apt to understand how to succeed at weight loss. On top of that, success becomes visible in body composition measurements even before the patient can see the changes in the mirror or on the bathroom scale. That increases motivation and treatment compliance enormously!" Stefanie Bohn, a woman affected by obesity confirms that: "It was an incredible relief for me to know that I am not just made of fat as I often thought. That was good for my self-esteem and for my motivation too. Because now that I know about my body composition, I can take a more targeted approach to managing my weight!"
According to Mrs. Wirtz, such knowledge and motivation are decisive factors in keeping patients on the ball, particularly in difficult phases. Survey results confirm that the visibility of success on the scale, in the mirror or in trend diagrams is the greatest motivating force for continuing pursuit of weight loss goals. The study reported that that 61% of respondents remain committed when their efforts pay off on the scale; more than one-third (44%) are motivated when muscle increases and fat decreases; and 33% are pleased when progress is visible in graphs and small successes are confirmed.

Body composition measurement at gold standard levelWith Bioelectrical Impedance Analysis (BIA), the medical Body Composition Analyzer (mBCA) from seca measures a patient's body composition within 17 seconds. Diagrams and curves give doctors, nutritionists and patients valuable information about patients' nutritional condition and health status. Based on this information, customized treatment plans are made, development is documented and success is visualized. The key to the usability of BIA parameters is their validity, for which seca acquired scientific validation. seca is the leader in gold standard-validated BIA systems and the only manufacturer that has published the validation against gold standard methods (complete body MRI, NaBr dilution and 4C model) in peer-reviewed journals.
You'll find the full statements by experts regarding the added value of BIA in obesity treatment and other information about seca and the mBCA in the attached PDF and at www.seca.com.
1 The data used are from an online survey conducted by YouGov Deutschland GmbH in which 1319 persons took part from 5 to 6 September 2018. The results were weighted and are representative of the US population from the age of 18 years. Persons involved had a BMI = 30 and higher.
Press Contactseca gmbh & co. kg
Anika Otto
Communications Manager
e-mail: anika.otto@seca.com
Tel.: +49 40 20 00 00 411
www.seca.com
seca – precision for healthSince 1840 seca has perfected the skill of developing innovative weighing technology combined with practical functions and has become the world's market leader in medical measuring and weighing. seca measuring systems and scales are sold by 14 branch offices and exported to 110 countries. The seca service network guarantees continuous maintenance of the precision instruments. To provide doctors and medical personnel with professional support, seca maintains close contact to users and tailors innovative products to the exact needs of their medical applications. Examples include networked measuring stations that communicate with each other, service and software systems that simplify medical routines and the medical Body Composition Analyzer (mBCA) which uses Bioelectrical Impedance Measurement (BIA) to revolutionize diagnostics and treatment. Ultra-modern production technology, durable materials and a worldwide quality management system ensure top-level product standards.