Survey confirms:
Americans do not use knowledge about imminent obesity and obesity continues to increase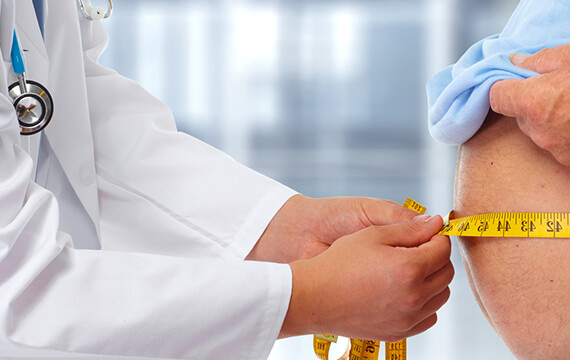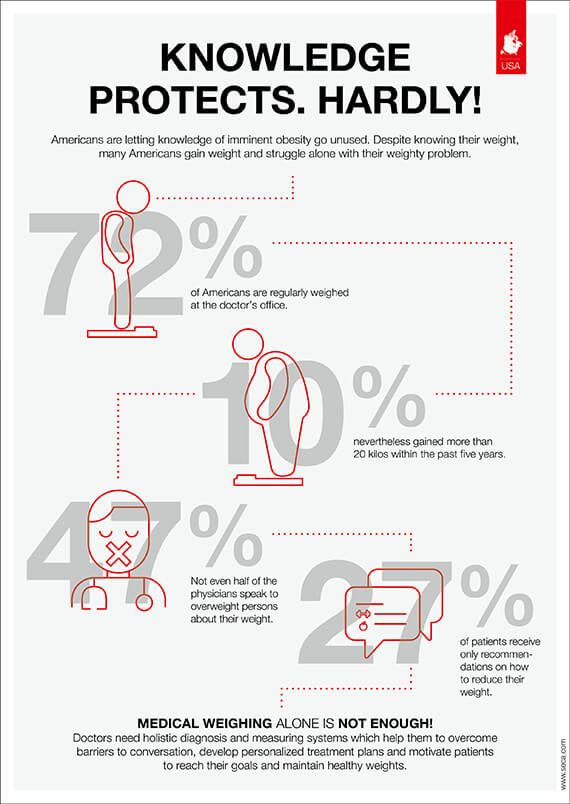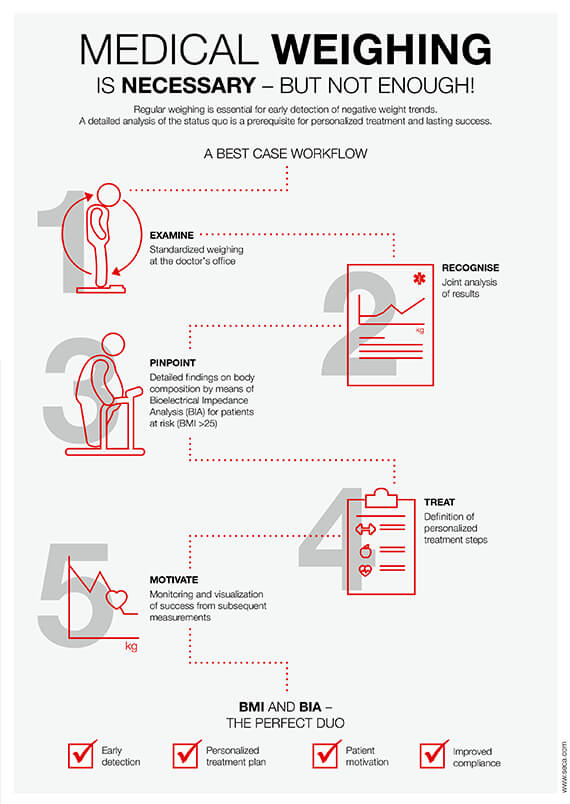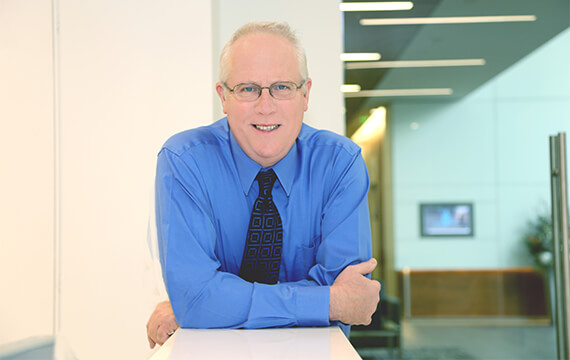 Majority of overweight patients may not be supported by the doctor
Overweight is a taboo subject in the examination room
Knowing a patient's weight does not necessarily translate into improved care
Modern measurement systems can promote weight loss
A representative survey commissioned by seca, the leading manufacturer of medical measuring systems and scales, shows that nearly three-quarter of the surveyed Americans (72%) are weighed at least once a year at the doctor's office, and 52% at least twice a year. Only 8% state that they have never stood on a scale at the doctor or cannot remember doing so. But these seemingly beneficial circumstances and findings have far too few consequences. Forty-five percent of respondents have gained weight in the past five years – one in ten even more than 20 kg – and more than one in two respondents is overweight or even obese (55%).
Barriers to effective care continue to persist: Obesity is often a taboo subject in the treatment roomKnowing the number on the scale does not lead automatically to a healthier lifestyle for the patient or to a frank discussion with the doctor. Overweight is apparently still a taboo topic for many doctors. Less than half of patients with Obesity (47%) even have a conversation with their physician about the importance of maintaining a healthy weight and only 27% receive helpful recommendations on how to achieve this goal. This survey confirms some key findings from the recent ACTION study , which found that while most health care providers said they had a role in helping patients lose weight (72%), only 55% of the patients had an accurate weight-related diagnosis, and fewer than one out of four (24%) had a follow-up visit scheduled. A combination of factors could be the cause – either the doctor's lack of time or the lack of patient's awareness of the problem and responsibility.
Dr. Richard Lindquist is an Obesity Medicine Specialist who works to help patients with overweight and obesity. "Regular weighing is essential and the first step in the early detection of unfavorable weight developments. But as the survey and the ACTION study show, weighing alone is not enough if the knowledge then remains unused." Nevertheless, he can explain the patient's and doctor's silence about overweight, because he knows the challenges on both sides when it comes to this sensitive topic. "While we have made a lot of progress in learning how to help patients manage their weight, a number of challenges persist. First, it is not easy even for a seasoned doctor to approach a patient who is not usually at the doctor's because of his weight, but maybe because of a cold. But the key is in having a conversation. You need to choose a very sensitive start to a conversation, asking if the patient would like to work on his weight, and then scheduling an appointment to discuss possible options. And second, many patients are frustrated by failed diets and unmotivated to pursue their goals when it comes to a standstill on the scale. It is important to motivate the patients with communication and modern measuring systems and let them know that we will be there for them and most importantly, will not give up on them."
Overcoming barriers: Holistic measurement system overcomes barriers to communication and makes success visibleDr. Lindquist is one of the doctors who want to think ahead, to address the overweight of patients and to support them on their way to sustained, healthy weight. For this purpose, he does not rely solely on the Body Mass Index (BMI) because it provides no insight of the body composition, the actual amount of the patient's fat tissue and lean tissue. To get this valuable information, he uses a holistic measurement system that addresses the previously mentioned time and communication challenges in everyday practice. A medical Body Composition Analyzer (mBCA) uses Bioelectrical Impedance Analysis (BIA) to determine the proportions of water, muscle mass, and fat in the body. In 17 seconds, it can provide a detailed analysis in simple graphics. In addition to providing the direct measurements of water, muscle and fat, it allows insight into the type of weight loss, and whether muscle is being maintained and fat being lost, which is not evident from weight or BMI alone. "Understanding body composition is very useful," states Dr Lindquist. "It helps to identify a patient's starting point, and then to be able to show the improvement in body composition over time. Achievements become visible and validate patients and doctors in their actions and therapeutic measures. This has proved to be an extremely motivating and powerful step in overcoming the issue of being overweight."
1 The data used is based on an online survey of YouGov Germany GmbH, in which in which 1130 people participated between May 9 and 14, 2018. The results were weighted and are representative of the US population over 18 years old.

2 Kaplan, et.al. ACTION Study. Obesity (2018) 26,61-69. www.actionstudy.com
Further information about medical Body Composition Analysis and seca can be found at www.seca.com.
Download infographic 1
Download infographic 2
Obesity – a chronic disease and not a lifestyle problemObesity is understood worldwide as a chronic, progressive metabolic disease with a complex pathophysiology and is considered to trigger more than 60 comorbidities such as diabetes mellitus type 2, cardiovascular diseases such as heart attacks, strokes and peripheral arterial occlusive diseases, which are an immense burden for those affected and the health system. Nevertheless, obesity is often dismissed as a lifestyle phenomenon and sufferers are often stigmatized. Moreover, it is not accepted as a chronic disease. As a result, those affected often do not have secure and comprehensively comparable access to individual care.
The WHO defined adiposity as a chronic disease in the year 2000. Professional medical societies share this assessment, which health care systems should adopt too. Obesity must be accepted as a disease to destigmatize those affected and to pave the way for safer care and better access to preventive measures and treatment.
Press Contactseca gmbh & co. kg
Anika Otto
Communications Manager
e-mail: anika.otto@seca.com
Tel.: +49 40 20 00 00 411
www.seca.com
seca – precision for healthSince 1840 seca has perfected the skill of developing innovative weighing technology combined with practical functions and has become the world's market leader in medical measuring and weighing. seca measuring systems and scales are sold by 14 branch offices and exported to 110 countries. The seca service network guarantees continuous maintenance of the precision instruments. To provide doctors and medical personnel with professional support, seca maintains close contact to users and tailors innovative products to the exact needs of their medical applications. Examples include networked measuring stations that communicate with each other, service and software systems that simplify medical routines and the medical Body Composition Analyzer (mBCA) which uses Bioelectrical Impedance Measurement (BIA) to revolutionize diagnostics and treatment. Ultra-modern production technology, durable materials and a worldwide quality management system ensure top-level product standards.