seca's New Ice Breaker
for Initiating Weight Discussion.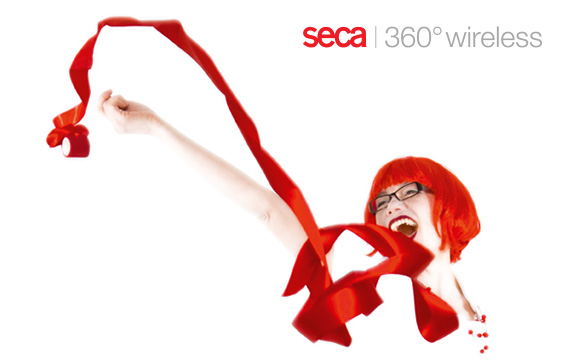 The seca 360° wireless product system is an entirely new approach to advising patients about weight related issues. Within a few easy steps, measurements are interpreted and printed immediately for a patient to review while they wait to be seen by their physician. This immediate printout enhances patient education on maintaining a healthy weight and initiates weight discussion if desired by the patient. This type of diagnostic support adds a completely new dimension to medical advice and allows doctors to communicate with patients in a non-confrontational environment. seca hopes this clear and direct approach may be exactly the prescription needed to begin to turn the tide in the battle against obesity.
The seca 360° wireless product system is unique to seca and directly improves patient communication in primary care by making weight management efficient for both doctor and the patient. The product system fits within your existing workflow and is included with every seca 360° device at no additional cost. For a product demonstration in USA, call 1-800-542-7322 or visit www.seca.com/360 for more information.
About seca Corporation
seca, the global leader in medical measuring and weighing offers healthcare providers advanced wireless technology and system solutions that go beyond height and weight. Based on over 170 years of quality German engineering, seca medical devices set the standard for innovation, design and reliability. On every continent, doctors and nurses in medical practices, hospitals and nursing homes rely on the high quality of seca's medical scales and measuring systems. seca products range from pediatric scales and measuring systems, measuring stations and column scales, flat scales, height measuring systems, multifunctional and wheelchair scales, chair scales and specialized scales. To learn more about seca products visit www.seca.com.


Press Contact:
seca North America
Lyndsey Nunez, Marketing Manager
Telephone: 1-800-542-7322
Email: Lyndsey.Nunez@seca.com