seca system solution for greater patient safety and increased efficiency in the neonatal care unit
seca launches the fully EMR-ready WLAN baby scale seca 333 i with digital measuring rod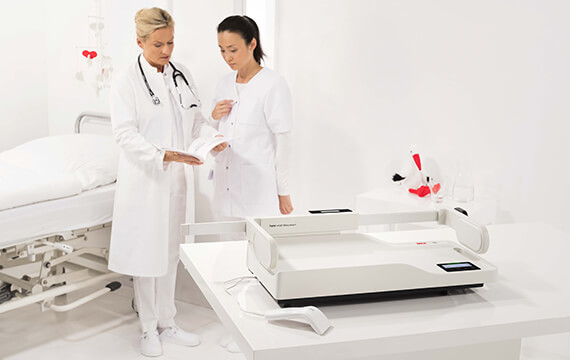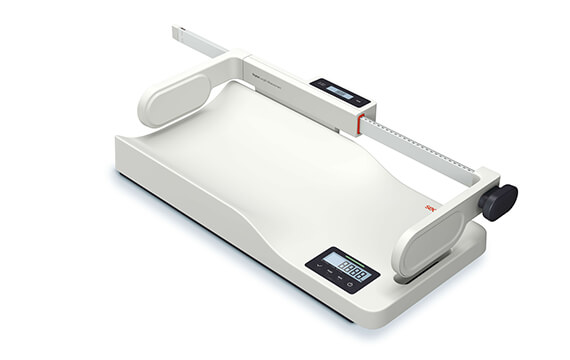 Optimized workflows prevent transcription errors
The scale is equipped with WLAN connectivity and a digital measuring rod which allow weight and length to be transmitted quickly and directly into the Electronic Medical Record (EMR) system. No additional hardware such as PC or tablet is required near the scale. Nursing staff and patients are identified in the hospital information system via a barcode scanner that can be attached to the device, where it is always available for use. Manual documentation or transcription errors are effectively ruled out.

Ready for the future, thanks to integration in existing or planned EMR systems
The baby scale seca 333 i also can be used without a connection to an EMR system. Hospitals which are not ready for EMR integration can work with the scale and benefit from its intuitive operation and accuracy. "When EMR integration is launched in the hospital, the perfect prerequisites for the connectivity are already fulfilled by the wifi enabled baby scale," says Andreas Otto, the seca product manager responsible for the scale. "The extent of digitalization in hospitals varies widely around the world and even from one region to another within the same country. The trend is nevertheless clear. Alone in Germany – which is not exactly a leader in digitalization in health care – the proportion of hospitals with digital projects increased from 46 percent in 2015 to 56 percent in 2016 . Our integration solutions are a logical response to the existing and upcoming market demands and a good option for hospitals that want to ensure their competitiveness in the future.

Benefits at a glance
User and patient identification: Barcode scanner can be connected to the USB port on the scale to allow optional user and patient identification.
Digital measuring rod: The measurements are easy to read on the integrated illuminated LCD display. With the quick press of a key, weight and length are transmitted to the EMR system.
Adjustment knob: The ergonomically shaped adjustment knob simplifies length measurement and prevents the rod from tilting.
The availability of the integration services can vary depending on the country and the project. Please contact us to plan your integration project: +49 40 20 00 00 0.

More information available at smileback.seca.com and www.seca.com.


Press Contact
seca gmbh & co. kg
Anika Otto, PR Manager
e-Mail: anika.otto@seca.com
Tel.: +49 40 20 00 00 411
www.seca.com

seca – precision for health
Since 1840 seca has perfected the skill of developing innovative weighing technology combined with practical functions and has become the world's market leader in medical measuring and weighing. seca measuring systems and scales are sold by 14 branch offices and exported to 110 countries. The seca service network guarantees continuous maintenance of the precision instruments. To provide doctors and medical personnel with professional support, seca maintains close contact to users and tailors innovative products to the exact needs of their medical applications. Examples include networked measuring stations that communicate with each other, service and software systems that simplify medical routines and the medical Body Composition Analyzer (mBCA) which uses Bioelectrical Impedance Measurement (BIA) to revolutionize diagnostics and treatment. Ultra-modern production technology, durable materials and a worldwide quality management system ensure top-level product standards.