Quick determination of cardiometabolic risk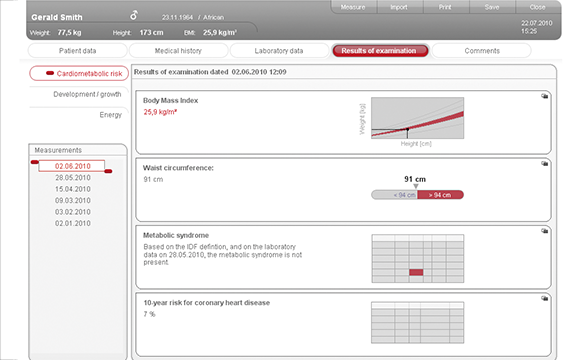 Doctors in their own practices and in hospitals are more frequently assessing the risk of coronary heart disease as part of a standard physical examination. This makes possible both early recognition of an elevated risk of heart attack and stroke and initiation of preventive measures.

Metabolic Syndrome as risk factor
If abdominal obesity is present in a patient who also suffers from two other disorders, such as elevated blood sugar, high triglycerides, low HDL cholesterol and high blood pressure, the doctor diagnoses metabolic syndrome. The patient's condition is then very carefully assessed by the doctor since metabolic syndrome is an established indicator of an increased risk of cardiovascular disease.

Good-bye to comparison charts
For years doctors have been using comparison charts to analyze and interpret measurement data. The development of medical PC software seca analytics 115 has turned this time-consuming process into a thing of the past. The module "Cardiometabolic Risk" takes into consideration all lab results and the patient's medical history to determine whether metabolic syndrome is present and to assess the risk of coronary heart disease.

Sound scientific basis for analysis
The estimate of the 10-year risk of coronary heart disease is made with defined risk scores (Framingham Score, European SCORE, PROCAM), which are analyzed on the basis of a point evaluation system. The patient data and laboratory results the PC software seca analytics 115 needs for the analysis can be imported directly from the Electronic Medical (EMR) system. Because there is no need for manual data entry, potential errors can be prevented.
Other cardiometabolic risk factors such as Body-Mass Index (BMI) and waist circumference can also be considered and analyzed separately.

Value-added patient consultation
The entire analysis can be printed on a DIN A4 sheet and given to the patient. This type of diagnostic support adds a whole new dimension to patient consultation and gives the medical practice or hospital a true competitive advantage.