OECD Forum 2018
seca calls for integrated obesity strategy in OECD countries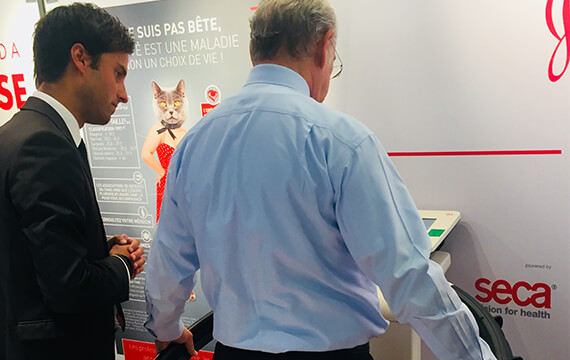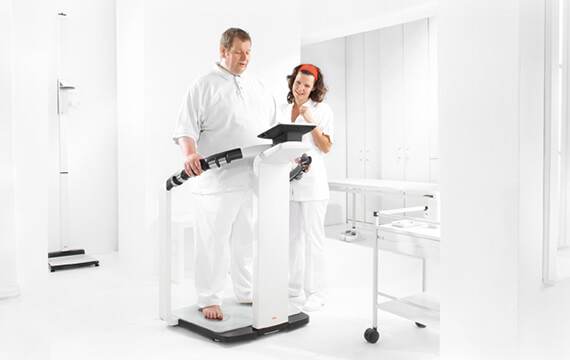 seca spoke with high-ranking visitors to draw their attention to the background and consequences of the international obesity epidemic and to present potential solutions. The overriding goal should be the implementation of an integrated national obesity strategy that ensures nationwide access to preventative and curative measures and holistic care of affected persons in varied stages of the disease.
In the year 2000 the World Health Organization recognized obesity as a chronic disease. It is not only a chronic, progressive metabolic disorder with complex pathophysiology, but also the trigger for more than 60 concomitant diseases with enormous consequences for patients and healthcare systems. With 1.9 billion overweight and 650 million obese persons in the world, the World Obesity Federation predicts that global costs associated with the disease will rise to 1.2 billion US dollars by 2025. Nevertheless, obesity is still considered a lifestyle problem in several countries. In many cases state health insurance companies cannot meet the demand for services, so affected persons receive inadequate care and sometimes even incorrect treatment.
Basic problem – Definition and diagnosis based on outdated BMI assumptionsA medical starting point for the required national strategies is in the definition and diagnosis of obesity. The approach advocated by seca at the OECD Forum is based on the medical knowledge that pathological overweight and obesity cannot be defined by Body Mass Index (BMI) alone. For BMI disregards the general state of health and critical body composition parameters. Once this information is taken into consideration, meaningful statements can be made regarding the severity of the disease and its suitability for treatment. The experts pointed out that a high BMI also can be caused by a positively high proportion of muscle mass and not only by a dangerously high share of visceral fat or extracellular water.
BIA measuring station from seca makes optimized diagnostics realTo demonstrate the added value of body composition analysis for the definition of obesity and treatment monitoring, seca measured OECD Forum participants on its medical Body Composition Analyser (mBCA). The scientifically validated BIA compensates for the weaknesses of the BMI. In addition to providing the BMI, the seca mBCA equipped with BIA technology also delivers precise measurements of body water, muscle and fat mass. All this information makes it possible to classify the patient's particular situation and assess treatment progress.
OECD General Secretary Gurría has his body composition measured and confirms the need for actionOECD General Secretary Angel Gurría had his body composition measured by the seca mBCA and convinced himself of the added value of the measurement for obesity prevention and therapy. In a conversation with seca, he confirmed the worldwide problem with obesity and said action was required. Among other things, the General Secretary mentioned the increasing overweight in his homeland of Mexico. According to a United Nations report on nutrition around the world, Mexico has a high rate of overweight persons. Seventy percent of the population is overweight, which is accompanied by disastrous consequences for the state of health of the Mexican people.
Politicians have to establish national obesity strategies to fight the problemRobert Vogel, seca managing director: "Obesity prevention fails with the very first step in numerous countries. Despite the world's growing obesity problem, basic healthcare in many places does not include regular weighing at the doctor's office. The chance of detecting weight changes early and intervening is missed. In this case politicians and state health insurers have to take action. The reason this step is not taken is because this service is not covered. On top of that, not every country provides care that's appropriate to each specific stage of the disease. To gain the upper hand in the battle against obesity around the world, we need a bundling of targeted and coordinated measures for prevention, diagnosis and holistic treatment. National obesity strategies to combat the disease could start with political declarations of intent and provide the basis for this urgently needed work."
You'll find more information about potential approaches to fighting obesity, a practical best case scenario for diagnostics and treatment monitoring in the doctor's office, and about seca in the paper "Obesity is a time bomb" at www.seca.com and www.secashop.com
1http://www.who.int/en/news-room/fact-sheets/detail/obesity-and-overweight
2Prediction by WOF World Obesity Federation https://www.worldobesity.org
Press Contactseca gmbh & co. kg
Anika Otto
Communications Manager
e-mail: anika.otto@seca.com
Tel.: +49 40 20 00 00 411
www.seca.com
seca – precision for healthSince 1840 seca has perfected the skill of developing innovative weighing technology combined with practical functions and has become the world's market leader in medical measuring and weighing. seca measuring systems and scales are sold by 14 branch offices and exported to 110 countries. The seca service network guarantees continuous maintenance of the precision instruments. To provide doctors and medical personnel with professional support, seca maintains close contact to users and tailors innovative products to the exact needs of their medical applications. Examples include networked measuring stations that communicate with each other, service and software systems that simplify medical routines and the medical Body Composition Analyzer (mBCA) which uses Bioelectrical Impedance Analysis (BIA) to revolutionize diagnostics and treatment. Ultra-modern production technology, durable materials and a worldwide quality management system ensure top-level product standards.