Medica 2019 – seca impresses with new product solutions in the areas of integration, body composition and software
The worldwide market leader focuses on future sustainability, optimized workflows and patient safety.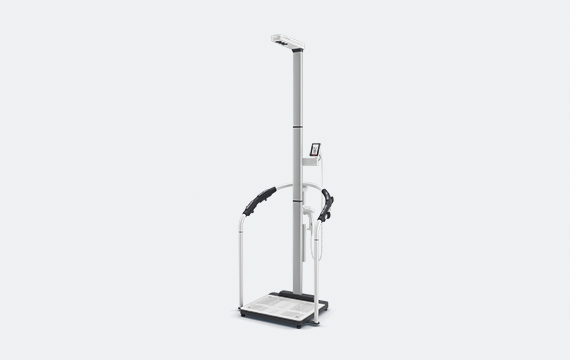 "To us, Medica 2019 is characterized by numerous product innovations", says Robert Vogel, seca Managing Director of Sales and Marketing. "Increasing competition and efficiency pressure, high patient demands and a continuous digitalization of processes require new solutions for the medical user. We meet those needs on all levels with our innovations: In the area of weight and length measurement, analyzing body composition and supporting software."
seca Scale-up Line – Individual solutions and increased patient safety through an ID display
Just as every patient is unique, every treatment room and every practice is equally unique in terms of facilities, space and frequent treatment situations. The new seca Scale-up Line meets these various requirements. Whether it's a flat scale, supplementary standing aid or an ultrasound length measurement – the Scale-up Line products match the users' needs. Thanks to the integration capacity and the seca ID display, seca is the only scale manufacturer worldwide that displays patients' and users' names when measuring them and, thus, prevents confusions or transmission errors in the digital patient record (EMR).
Special highlight for little patients: Luminous LED feet on the platform and a smiling panda figurine at eye level ease children's fear during weight and length measurements. The measuring and weighing process is simplified, the results' accuracy is ensured and the workflow is optimized.
seca mBCA 555 – Three measurement processes and cloud data transfer in under a minute
When it comes to the scientifically validated recording of body composition using bioimpedance analysis (BIA), seca is a leader in medicine. The previous product family, consisting of a standing and a reclining measuring system, is now extended by a modular expandable BIA device. Thanks to the optimal ultrasound length measurement, it is now possible to measure weight, height and body composition in one step and in under a minute. Feet-shaped LEDs that are embedded in the platform show patients and users the optimal foot position; the standing aid ensures the correct grip position – decisive aspects in terms of reproducible measurement conditions and precise results. Even here, the seca ID display and the integration capacity of the sec mBCA 555 guarantee an optimal patient and user identification and, thus, ensure the highest levels of efficiency and patient safety thanks to the automatic integration of data into the EMR.
seca analytics 125 – Cloud-based mBCA software for optimized diagnosis and therapy support without maintenance costs
With seca's software solutions, users can simply document and evaluate the measurement results of the seca mBCA and make any body composition change visible. Specific graphics adapted to everyday clinical practice play an integral role in patient motivation, diagnosis, consultation and treatment planning. Medical personnel gets a quick overview of the individual nutritional status and, thus, recognize functional disruptions quicker. Thanks to the new cloud-based software deployment, seca analytics 125 provides fast and secure access to all current and previously collected measurements, whenever and wherever necessary. The modern system architecture relieves seca customers of time-intensive administrative IT tasks. The software is continuously maintained and further developed by seca while the data are saved securely and are protected against data loss as well as third-party access.
Shatter-proof, solid Bearclaw-Glass Platform
The platforms of both the seca Scale-up Line and the seca mBCA 555 are made of shatter-proof, solid Bearclaw-Glass®. The use of a special safety glass makes them absolutely shatter-proof in everyday clinic and practice work. In addition to its high-quality look, the hygiene aspect speaks for this material. It's easier to clean than plastic, rubber or metal and ages much slower.
Visitors can find additional seca product solutions surrounding interlinked weighing stations, mBCA service and software systems as well as optimizing workflows and patient safety at the seca booth at Medica (hall 12, booth A63) and online at www.seca.com.

Press Contactseca gmbh & co. kg
Anika Otto; Communications Manager
E-Mail: anika.otto@seca.com
Tel.: +49 40 20 00 00 411
www.seca.com
seca – precision for healthSince 1840 seca has perfected the skill of developing innovative weighing technology combined with practical functions and has become the world's market leader in medical measuring and weighing. seca measuring systems and scales are sold by 16 branch offices and exported to 110 countries. The seca service network guarantees continuous maintenance of the precision instruments. To provide doctors and medical personnel with professional support, seca maintains close contact to users and tailors innovative products to the exact needs of their medical applications. Examples include networked measuring stations that communicate with each other, service and software systems that simplify medical routines and the medical Body Composition Analyzer (mBCA) which uses Bioelectrical Impedance Measurement (BIA) to revolutionize diagnostics and treatment. Ultra-modern production technology, durable materials and a worldwide quality management system ensure top-level product standards.