MEDICA 2014:
Successful start for seca!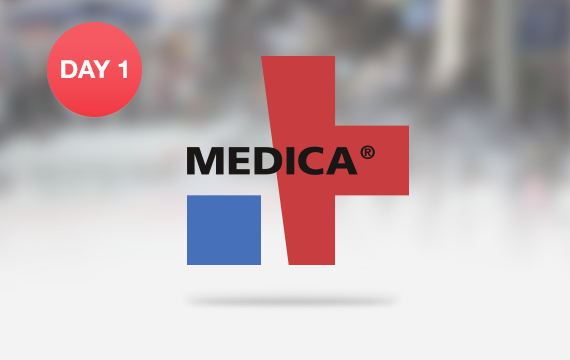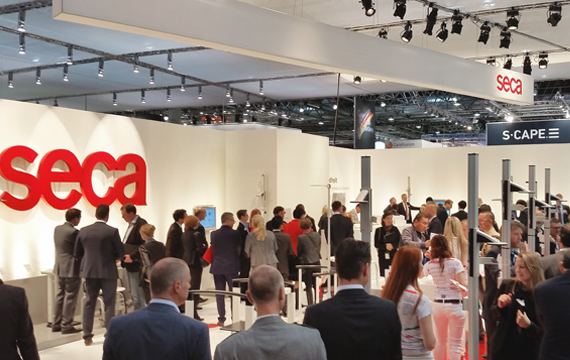 Together seca directprint and seca mBCA generated lots of interest and stimulated in-depth discussions. After all, these products form the basis for better patient consultation and optimized therapy decisions. First the patient is made aware of his weight with the help of the easy to understand seca directprint. If the weight is outside the normal range and is a potential risk to good health, the patient is informed and given some tips on lifestyle changes. Then he may be motivated to initiate a discussion with the doctor. seca directprint thus offers the practicing physician a solution for a frequently occurring problem, i.e., the way to bring up the subject of weight during an office visit for which very little time is available.
In addition, seca directprint could be the starting point for a more detailed examination and treatment monitoring with seca mBCA.
Doctors who already use and appreciate the innovative device are especially interested in the new seca mBCA software. Among other things, it offers validated measurement of visceral fat and an optimized design with new elements for a clearer interpretation of result charts and measurements. Findings are now presented in a clearly organized, one page printout. The doctor has all the parameters at a glance and no longer has to flip back and forth through several pages.
Circumference measurements and weighing made easy for pediatricians!
Pediatricians are delighted with the new disposable measuring tapes seca 211 and seca 218 and the carts seca 402 and seca 403 for seca baby scales. The disposable measuring tapes seca 211 and seca 218 are made of high-quality paper. Thanks to the practical wall dispenser, the tapes are always at hand for hygienic one-time use. The dispenser, which holds up to 100 measuring tapes, can be installed anywhere and refilled with no trouble.
The perfect supplements to the seca baby scales are the carts seca 402 and seca 403. They offer safe and convenient transport of the seca baby scales for everyday use in hospital and medical practices. Each cart is equipped with customized indentations in the surface to accommodate the base of the scale. The scale is always protected from slipping and the baby can be weighed safely.
seca mBCA lecture at MEDICA Medicine + Sports Conference
Now the seca team is looking forward to Thursday and its special highlight. Philipp Lilburn, key expert in body composition on the seca Product Management team, will speak on the subject of "Body Composition Assessment For Enhanced Performance Diagnostics" during the session from 10:30 a.m. to 1 p.m. at the MEDICA Medicine + Sports Conference on 13th of November 2014. His lecture will certainly prove interesting to an audience beyond sports doctors.
seca at MEDICA 2014: hall 12 at stand A63.
MEDICA 2014 takes place at the Congress Center in Düsseldorf from 12th to 15th of November 2014.