Decisive step for outpatient nutrition therapy in oncology –
seca and B. Braun TravaCare rely on validated BIA technology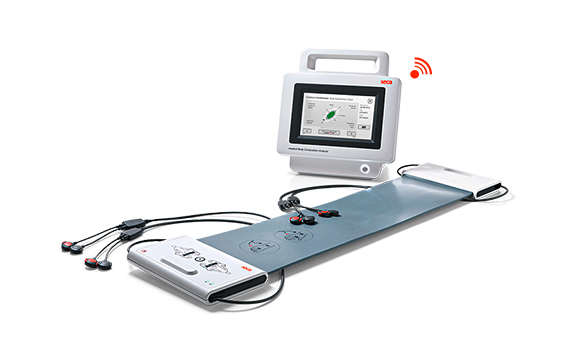 B. Braun TravaCare is a wholly-owned subsidiary of B. Braun Melsungen AG, one of the world's leading manufacturers of medical technology and pharmaceuticals and a provider of medical services. B. Braun TravaCare specializes in outpatient nutrition therapy, caring for patients throughout Germany who need special nutrition treatment after a hospital stay. The focus is on home-based aftercare of cancer patients for whom customized treatment is particularly important.
Quality standards for homecare rise in compliance with social legislation principles
The significance of home-based patient care and services provided by B.Braun TravaCare has grown since the enactment of social legislation that places outpatient before in-patient care. Every day B. Braun TravaCare meets the challenge of providing high-quality care with economic efficiency.
"Outpatient nutrition therapy at the patient's home is extremely labor-intensive work. Our objective is to offer top quality care by using highly-qualified experts and ultra-modern equipment," says Dr. Peter Adamczyk, one of the managing directors of B. Braun TravaCare. Among other things, the precision of the parameters and the simple, mobile application were instrumental in making the decision in favor of the seca mBCA 525. "With the use of mobile BIA measuring stations, we want to optimize treatment, improve monitoring and quality of life for patients and thus raise the level of our service."
Robert Vogel, one of three managing directors at seca, says, "For years we have been observing the developments in nutrition medicine and have worked closely with users to find out about their needs. The fact that B. Braun TravaCare now works throughout Germany with our BIA measuring station confirms to us that we have fulfilled the requirements for reliability, precision and integration and can offer genuine added value in everyday medical care."
Supine BIA measurement simplifies precise measurement of immobilized patients
The seca mBCA 525 is perfectly suited for use in oncology and for the prevention of malnutrition as it can determine the patient's health condition and nutritional status with great precision. A multi-center study involving different ethnic groups validated the precision of the BIA parameters against the gold standards for body composition measurement.
The seca mBCA 525 provides a complete body composition analysis for use in diagnostics and treatment. The measuring mat captures all required parameters of a supine patient such as fat mass, skeletal muscle mass and body water in just 30 seconds and transmits the measurements via Wi-Fi to the touchscreen monitor and digital patient files. Mobility is guaranteed by the mat, powered by its own battery, which is charged wirelessly by an induction charger. As the monitor can store more than 100,000 measurements, a medical facility can keep years of centralized and reliable documentation for several patients and their courses of treatment. The clear presentation of all parameters on the monitor and the optionally available one-page printout of results assist the doctor with diagnostics and patient consultations.
seca – Precision for Health
Since 1840 seca has perfected the skill of developing innovative weighing technology combined with practical functions and has become the world's market leader in medical measuring and weighing. seca measuring systems and scales are sold by 13 branch offices and exported to 110 countries. The seca service network guarantees continuous maintenance of the precision instruments. To provide doctors and medical personnel with professional support, seca maintains close contact to users and tailors innovative products to the exact needs of their medical applications. Examples include the medical Body Composition Analyzer (mBCA) which analyzes body composition by means of Bioelectrical Impedance Measurement (BIA), and the seca 360° wireless system which supports doctors with diagnoses. Ultra-modern production technology, durable materials and a worldwide quality management system ensure top-level product standards.
B. Braun Melsungen AG
B. Braun is one of the world's leading manufacturers of medical technology and pharmaceutical products and health care service provider. With more than 58,000 employees in 64 countries, B. Braun develops high-quality product systems and services for users around the globe. In 2015 the group reported sales of about 6.13 billion EUR. The expertise of B. Braun employees and the company's understanding of the users' needs go into every service provided by B. Braun. In the development of its products, systems and services, B. Braun acts as a sparring partner, one who pushes development through constructive exchanges with clients and the motivation to improve things. With a continuously growing portfolio of effective healthcare solutions, B. Braun contributes greatly to protecting and improving people's health.

___________________________________________________________________________________________
Bosy-Westphal A, Schautz B, Later W. Kehayias JJ, Gallagher D. What makes a BIA equation unique? Validity of eight-electrode multi-frequency BIA to estimate body Composition in a healthy adult population. Eur J Clin Nutr 2013; 67: 14-21; doi:10.1038/ejcn.2012.160