A unique system solution –
seca partners with Welch Allyn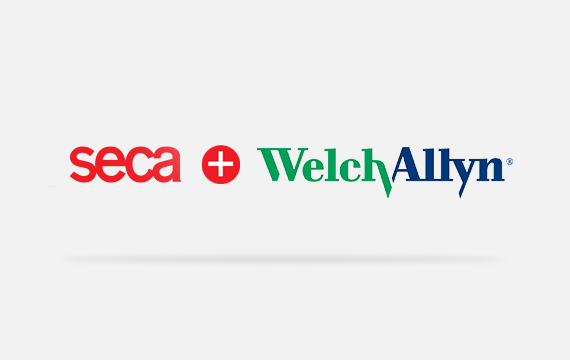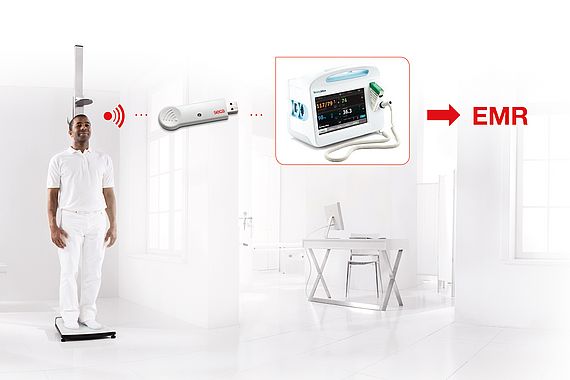 seca 456 WA transmits data from seca 360° wireless products to Welch Allyn patient monitor
Recording vital signs are apart of nearly every medical examination. Now a patient's height and weight can be wirelessly transmitted from a seca 360° wireless measuring device directly to a Welch Allyn Connex® monitor. This cooperative effort is the only one of its kind in the world. No other product system offers wireless transmission of height and weight to a patient monitor, thanks to the new seca 360° wireless USB adapter seca 456 WA from seca gmbh & co. kg, Hamburg/Germany. The obvious advantages for users include time-saving steps, optimization of work flows, improvement in vital parameter management and increased patient safety as manual transcription errors are prevented. Important measurements are provided quickly and reliably to assist medical personnel with decisions on diagnoses and treatment. Tangled cables and tripping hazards in the examination rooms are a thing of the past.
Robert Vogel, seca CEO Sales & Marketing, says about the cooperation: "We are pleased about our partnership with Welch Allyn, which will make documentation of height and weight even more efficient and reliable. Both companies place great stock in providing practical solutions that give doctors and nurses the very best support possible. Our products help to optimize routine procedures and prevent errors."
Trouble-free use with reliable documentation of measurements
The USB adapter seca 456 WA wirelessly connects the Welch Allyn Connex® Monitor with any product in the seca 360° wireless system. The Welch Allyn Connex® Vital Signs Monitor is a portable device for documentation of vital signs. Intended for hospital use, the Welch Allyn Connex® Integrated Wall System consists of a monitor and diagnostic instruments. The seca product with wireless transmission, such as the digital measuring station seca 285/284 that measures height and weight in a single step, stands within the monitor's range, which can cover several rooms.
In addition to monitoring vital signs, the patient monitor handles the transmission of measurements into a data management system. Height and weight transmission can be activated via an easy-to-use plug-and-play connection.
You'll find more information about Welch Allyn at www.welchallyn.com.