Discover the advantages
of the seca mBCA 525.
Expertly developed for mobile application. The entire development had one goal: to make mobile bioimpedance measurement as efficient as possible through low weight, the most precise measurement technology and easy handling. The seca mBCA 525 is one of a kind in terms of function and performance. The unique measuring mat measures all of the required parameters such as fat mass, muscle mass and body water in a fully self-sufficient way. The short cables simplify working. The mat is also automatically linked to the touchscreen monitor by Wi-Fi, which can also be deactivated if required. The large memory of the monitor has sufficient capacity for over 100,000 measurements. This enables a large number of patients and courses of therapy to be reliably documented for years. Futhermore, measurements can be reliably carried out regardless of location in hospitals or in private practices. Its light weight, practical handle and optional mobile stand with a basket for patient files and accessories guarantees maximum mobility.
---
Your demands.
Best time for a seca solution.
Lightweight on the go.
Its mobility is optimized even further through the mobile stand. It has a secure stand and offers room for storing files and accessories in its convenient basket.
Reliable measurement.
The correct placement of the electrodes is illustrated on the measuring mat. Each measurement only begins after an automatic electrode test to prevent errors and guarantee the reproducibility of the data.
Always ready for use.
The measuring mat is charged by induction in the practical transport compartment. If the Wi-Fi is switched off then the collected data can optionally be synchronized with the monitor. Simply dock it and you are done.
Perfectly displayed results.
The clearly organized presentation of all parameters makes diagnosis extremely easy and simplifies the patient consultation. It can be operated without any problems even when wearing gloves or under a protective cover.
Easy and quick use.
The Easy SnapTM-electrodes can be applied very quickly and the square adhesive electrodes also simplify the correct placement.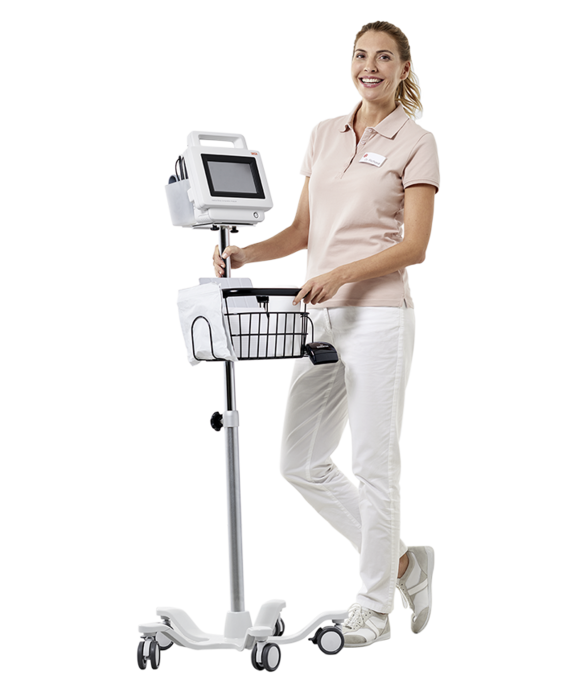 ---
Learn more about the seca mBCA 525
Choose your field of application.