"Global markets and digitalization demand diversification"
Robert Vogel, Managing Director for Sales & Marketing, regarding MEDICA 2017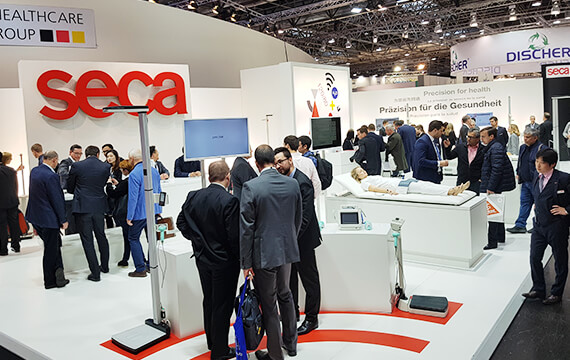 "The market has changed drastically over the past few decades as globalization and digitalization have progressed. We are now active in more than 110 countries, all of which have highly varied basic requirements and different levels of technical development. Consequently, our target groups and their requirements for our products differ greatly. Diversification is our key to providing everyone with the right solution," said Robert Vogel, seca Managing Director for Sales & Marketing. The strategy was reflected in the exhibits at Stand A63 in Hall 12 at MEDICA. "We no longer sell only medical measuring systems and scales. Over the years we have expanded the portfolio to include software and system solutions that can optimize networked processes in everyday medical care. We continue to pursue such expansion because we can see how digitalization is making inroads in all areas of care and there's no end in sight. All our solutions are aimed at simplifying daily processes while improving diagnostic and therapeutic performance." Many international visitors to the seca stand could see for themselves how seca delivers on its promise.

Highlights at the trade fair included amongst others the integration-ready baby scale
seca 333i and the seca mVSA 535.

Press contact
seca gmbh & co. kg
Anika Otto, PR-Manager
E-Mail: anika.otto@seca.com
Tel.: +49 40 20 00 00 411
www.seca.com


seca – precision for health
Since 1840 seca has perfected the skill of developing innovative weighing technology combined with practical functions and has become the world's market leader in medical measuring and weighing. seca measuring systems and scales are sold by 14 branch offices and exported to 110 countries. The seca service network guarantees continuous maintenance of the precision instruments. To provide doctors and medical personnel with professional support, seca maintains close contact to users and tailors innovative products to the exact needs of their medical applications. Examples include networked measuring stations that communicate with each other, service and software systems that simplify medical routines and the medical Body Composition Analyzer (mBCA) which uses Bioelectrical Impedance Measurement (BIA) to revolutionize diagnostics and treatment. Ultra-modern production technology, durable materials and a worldwide quality management system ensure top-level product standards.