Arab Health 2018 – seca advances digital transformation
Fully integrated system solutions for more safety and efficiency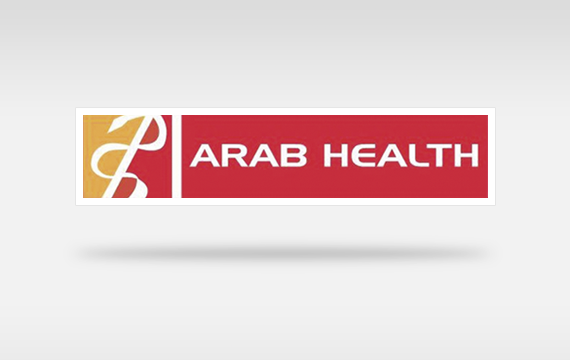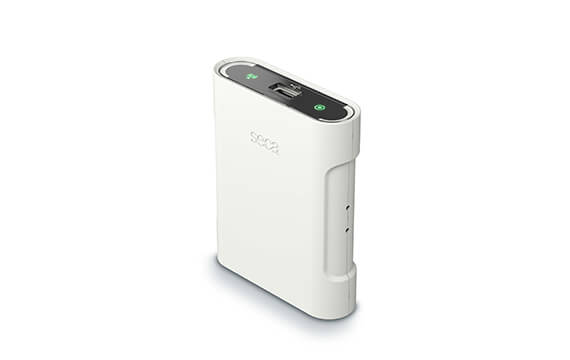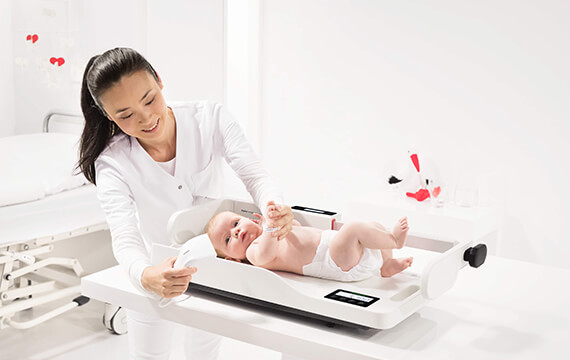 seca highlights at Arab Health 2018
Interface module seca 452
Today seca offers many integration-ready products, including the medical Body Composition Analyzer, diverse measuring stations, column scales and the Spot Check Monitor mVSA. With the Interface Module seca 452, seca scales and measuring stations can be refitted economically for full integration via seca software. Because this integration also is made via WiFi from anywhere, no additional hardware such as a PC or tablet is required near the scale or measuring system. Identification of caregivers and patients takes place bi-directionally via the EMR system with the use of the barcode scanner, which is attached to the device where it is always at hand. The module, fastened to the product in an easily assembled holder, is configured centrally via the server. LEDs show when the device is ready for use, give the user feedback on the scanned patient barcode and confirm that the measurements have been transmitted into the EMR system. This process will be presented at the stand with the measuring station seca 284 as an example.

Baby scale seca 333 i
Precision is demanded in the measuring and weighing of babies. Equipped with WiFi and an integrated digital measuring rod, the seca 333 i transmits baby's length and weight directly into the EMR system from any location. For the optional user and patient ID function, a barcode scanner can be connected to the USB port on the scale. Workflows become more efficient and patient safety improves as the user can concentrate completely on the little ones.

Networked systems bring competitive edge
seca has been working on the digitalization of routine hospital processes for many years. The objective today is not limited to providing the user with precise information about height and weight. Measuring systems and scales from seca record height and weight, vital data and body composition and transmit all data directly to the EMR. "Centralization provides immediate and interdisciplinary access to all relevant patient data. Users can get a complete picture of the patient and hospitals can raise the quality of diagnostics and treatment to a new level. That's not just a big win for patients but also a good way to strengthen the position of hospitals in the market," says Robert Vogel, managing director for Sales & Marketing at seca.

Medical assessment: documentation of routine measurements is indispensable
The capture and documentation of vital signs, height and weight are routine tasks which contribute to quality of care and patient safety. "Detailed knowledge of these parameters is very important in routine hospital work," says Michael Johannes Maisch, doctor and Chief Medical Advisor at seca. "The accuracy of the data is critical in finding the right medication dosages, particularly of cytostatic drugs and anesthetics. Mixing up patients or juxtaposing numbers in handwritten measurements can have serious consequences for infants or old and weak patients." Even though it is easy to obtain such data, the process takes time and ties up qualified personnel. The one-time documentation of vital data alone takes 1.5 minutes per patient.

Please visit us at Arab Health in Hall 2, Stand C19 and see for yourself how efficiency improvements can be made. More information about seca can be found at www.seca.com.

Press Contact
seca gmbh & co. kg
Anika Otto, PR Manager
e-Mail: anika.otto@seca.com
Tel.: +49 40 20 00 00 411
www.seca.com

seca – precision for health
Since 1840 seca has perfected the skill of developing innovative weighing technology combined with practical functions and has become the world's market leader in medical measuring and weighing. seca measuring systems and scales are sold by 14 branch offices and exported to 110 countries. The seca service network guarantees continuous maintenance of the precision instruments. To provide doctors and medical personnel with professional support, seca maintains close contact to users and tailors innovative products to the exact needs of their medical applications. Examples include networked measuring stations that communicate with each other, service and software systems that simplify medical routines and the medical Body Composition Analyzer (mBCA) which uses Bioelectrical Impedance Measurement (BIA) to revolutionize diagnostics and treatment. Ultra-modern production technology, durable materials and a worldwide quality management system ensure top-level product standards.