seca mVSA
535
Bioelectrical impedance analysis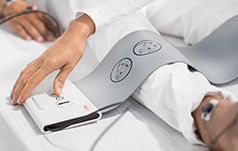 Bioelectrical impedance analysis
Determination of body composition
Medically precise measurement results validated against the gold standard*
Receptacle with drain slot for cleaning agents
BIA measuring mat made of easy-to-clean silicone
Also possible to start the bioelectrical impedance analysis from the BIA measuring mat
Simple electrode connection using Easy Snap™
Hygienic inductive charging
NIBP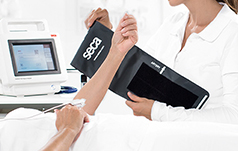 NIBP
Inflation and deflation measurement
Inflation measurement is significantly shorter with a lower pressure load
Identification of incorrectly positioned cuffs
Individual or multiple measurement individually adjustable
Different cuff sizes available
Pulse rate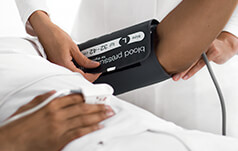 Pulse rate
Determined while measuring oxygen saturation or blood pressure
Temperature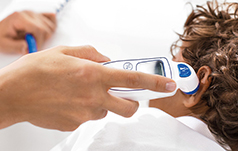 Temperature
Two different thermometer technologies (in-ear or oral/axial thermometer, rectal temperature probe)
Intelligent probe cover removal concept for both thermometer technologies
Temperature probe (oral/axial, rectal) with securing device
Removable temperature probe storage with drain slots (hygiene)
SpO2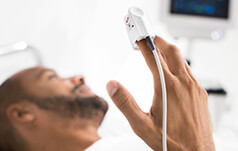 SpO2
High-precision and clinically validated SpO2 technology
Soft or hard clips
Easy-to-clean soft clips made of silicone
seca mVSA 535
Medical Vital Signs Analyzer with bioelectrical impedance analysis
The seca mVSA 535 is the world's first spot-check monitor that combines the conventional measurement of vital signs with a bioelectrical impedance analysis (BIA). In one step you can measure the 4 vital signs of blood pressure SpO2, pulse rate, and temperature and conduct a complete body composition analysis to determine fat, water, and muscle content. You can now measure more parameters in a routine check and broaden your diagnostic and therapeutic options through the combined view of BIA and vital signs. This high-performance software communicates with any network and guarantees the error-free transmission of all measurement values to your EMR system. Our integration service will individually integrate the system into your IT infrastructure as needed and thereby optimize your daily routine measurements. The seca mVSA is part of the radio-compatible seca 360° wireless product world and guarantees the automatic transmission of height and weight from compatible scales and length measuring systems to the device. The BMI is always automatically calculated along with this.
The seca mVSA can be individually configured to your needs.
Conventional vital data measurement of blood pressure, SpO2, pulse rate, and temperature combined with the rapid collection of body composition data consisting of body water, fat mass, and muscle mass.
The networkable seca 360° wireless technology eliminates transmission errors and increases the efficiency of your routine measurements.
Easy-to-understand graphical presentation of the measurement values on the touchscreen display.
Large internal memory for up to 70,000 measurements.
---
Highlights
Products designed down to the last detail.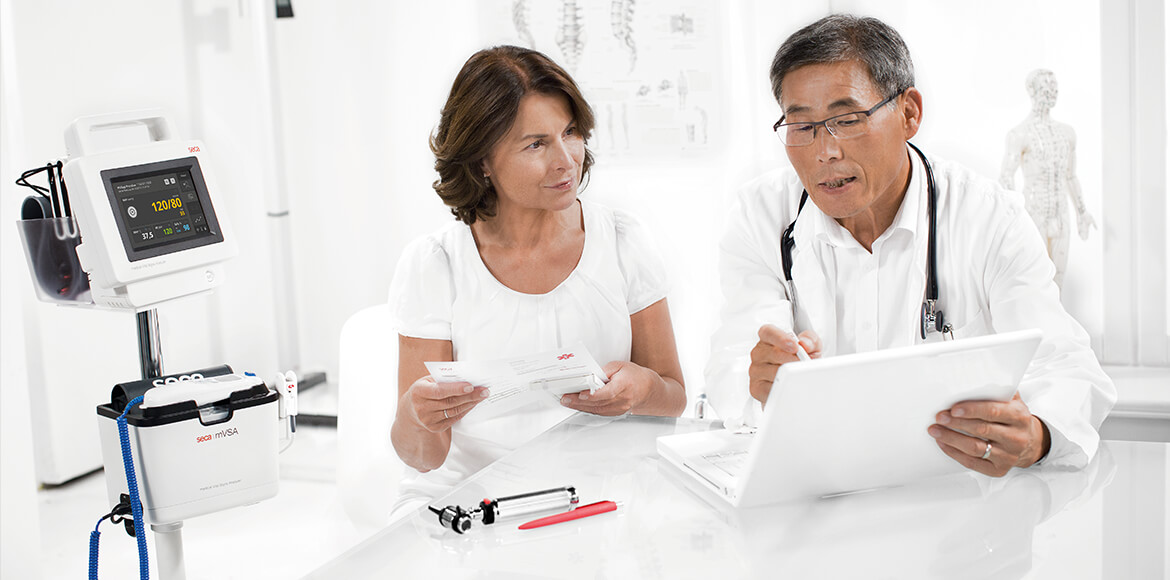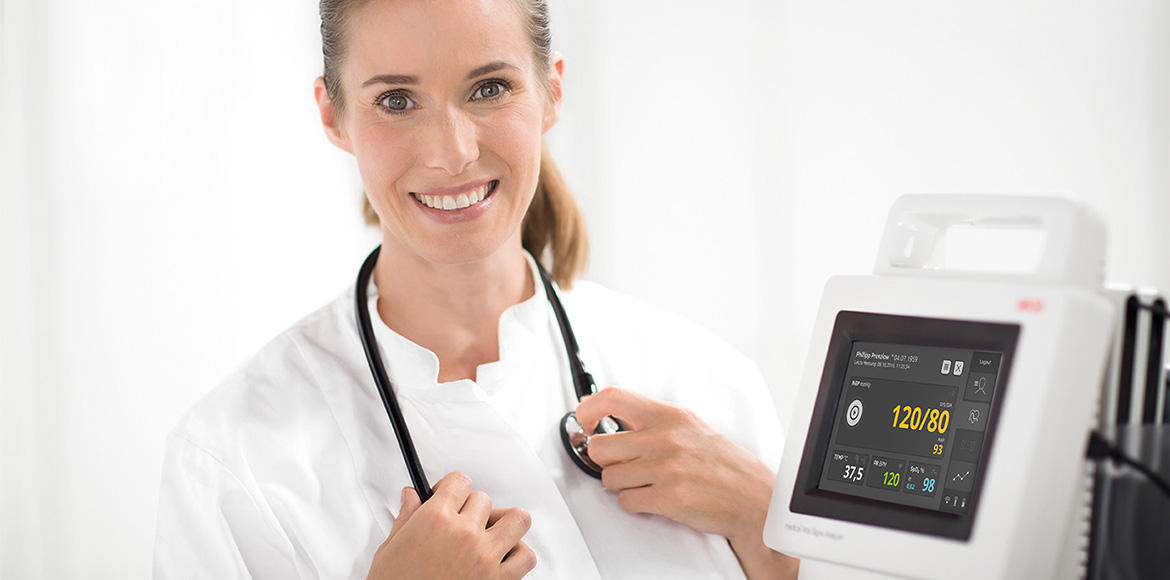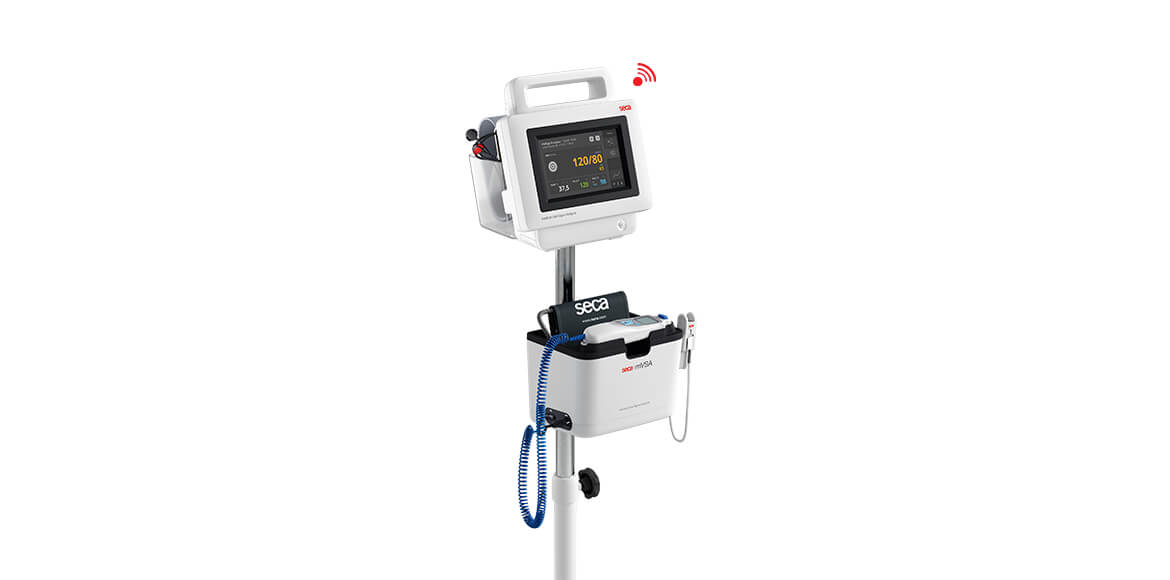 ---
Product information
Technical product data and support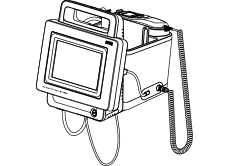 Technical Data
| | |
| --- | --- |
| Interfaces: | WLAN, seca 360° wireless technology, USB 2.0, Ethernet |
| Medical device class: | IIa |
| Display type: | 7" Touchscreen-Display |
| Temperature measurement method: | direct, predictive; Genius 2 operating manual ear |
| SpO2 Measurement method: | Pulse oximetry |
| Blood pressure measuring procedure: | oscillometric |
| Power supply: | Internal rechargeable lithium-ion battery, Built-in power adapter |
| Measure (W x H x D): | 252 x 262 x 278 mm |
| Net weight: | In-ear thermometer 3.7 kg |
More products / system compatible products
Expand your seca products.