It's easier than ever!
Transmit height and weight measurements wirelessly to any program.

Step 1:
Download the free seca emr flash 101.

Step 2:
Download the free seca keyboard module.

Step 3:
Configure the system yourself and transmit to any program.
Without programming. Without prior knowledge. Without stress.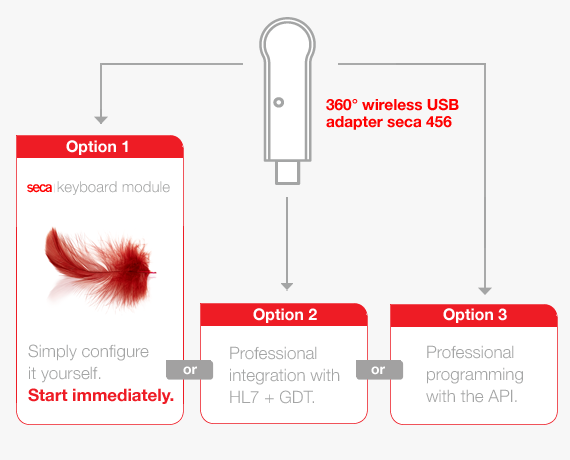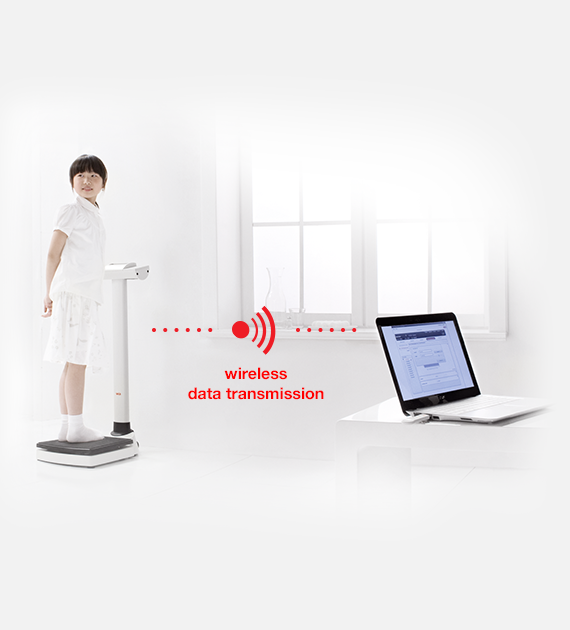 One step ahead of the future:
direct EMR integration
No other manufacturer of scales and measuring instruments now offers direct wireless transmission of measurements to an EMR system. Some manufacturers offer only hard-wired solutions via USB or RS232 interfaces that transmit measurements into Microsoft Excel spreadsheets or similar applications. Furthermore, a direct connection to an EMR system usually involves a lot of programming work, but that is not the case with seca!
Direct EMR integration is only available from seca
Two downloads to the goal

A program interface known as an API (Application Programming Interface) lets you develop a customized module for your specific EMR system with some simple programming steps.
seca has already developed software modules for some EMR systems and standard protocols (e.g., HL7, GDT) in which 80% of the programming steps have been executed. You can carry out the integration in your hospital or medical practice with the assistance of an EMR system provider or IT department.
The software seca emr flash 101 is available to you, free of charge.
Detailed information about the software and the API or the modules is in the white papers and manuals on the download page. If you have any questions about the software, your dealer will be happy to help you.
EMR integration is the future
of medical technology
Increase efficiency, save time and prevent manual entry errors with seca 360° wireless products* which transmit your measurements directly into an EMR system. This is the future of medical technology. Wireless products free you to concentrate on what's really important – the well-being of your patients. More and more countries are making electronic capture of measurements mandatory in health care. The USA Congress, for example, has passed a law that calls for digital management of patient data and electronic storage of basic parameters such as weight and height in a patient database by the year 2014.**
Simple, efficient
and free!
Without any additional expense, medical science can take a giant step forward. Our contribution is a free download of the intuitive software seca emr flash 101, which transmits your measurements directly to your EMR system. In a matter of seconds, the software assigns a patients measurements to the correct patient ID. The programs Auto-Send function offers the additional advantage of transmitting the results directly into any EMR system.
* With seca emr flash 101 Version 1.1 you may also process data received from seca RS232 scales.

** American Recovery and Reinvestment Act (ARRA)-HITECH provisions of Meaningful Use as specified by HIT Standard 170.302.

EMR = Electronic Medical Record