Spot-check-monitor
for better health status evaluation
The seca mVSA offers one-of-a-kind medical options because the compact device combines many different measurement functions. In addition to the variety of measurement values, it is the combination of options of vital parameters and measurement values from the bioelectrical impedance analysis in particular that lead to a new and more comprehensive medical understanding.

Blood pressure can be determined particularly quickly and gently using the inflation measurement method. Incorrectly positioned cuffs are automatically detected.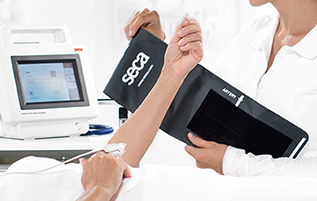 The patient's pulse rate is always measured at the same time. With blood pressure measurement and with pulse oximeter.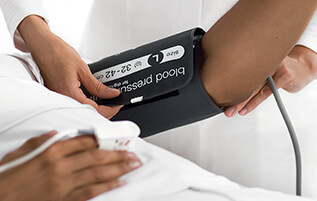 Temperature can be measured in-ear or using a temperature probe (oral/axial/rectal). Both solutions have been tested and are in use worldwide. Probe covers included in delivery.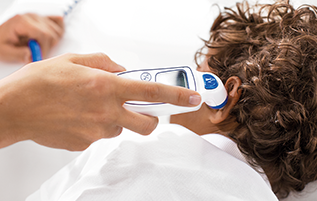 Reusable standard sensors and easy-to-disinfect soft sensors made of silicone as well as hard clips are available for seca SpO2.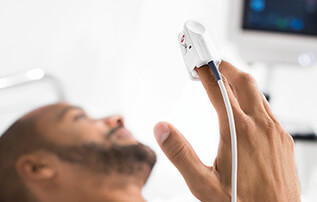 Bioelectrical impedance analysis
The complete body composition analysis of fat, water, and muscle components together with the vital parameters can be quickly carried out and offers a unique advantage for diagnoses and therapy evaluations.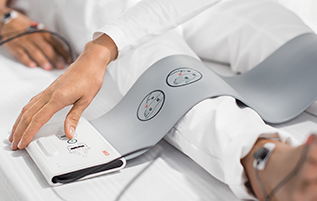 Learn more

Phase angle correlates with the nutritional and functional (metabolic) status of individuals. A sound nutritional state as well as a healthy metabolism result in a high phase angle value. It has proven to show disease severity, especially in oncology, nephrology and cardiology and HIV.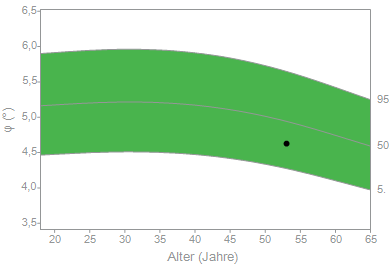 The medically precise distinction between fat mass and fat-free mass is important when weight changes occur. This is especially true for patients that are overweight, obese and malnourished. The development of fat mass is thus valuable for weight management, in diabetology, hospital nutrition or general health.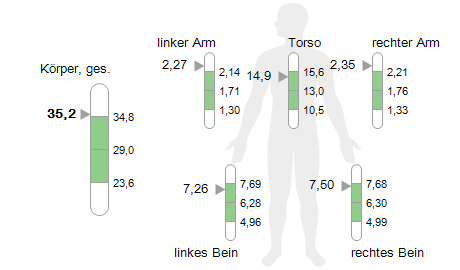 The BCC displays fat mass and fat-free mass in a graphic which enables you to interpret body composition at a glance. In addition, a series of measurements can be used to determine whether the fat mass or fat-free mass contributed to any weight change. It is therefore an essential tool in weight management, diabetology, cardiology, general health or hospital nutrition when it comes to losing weight.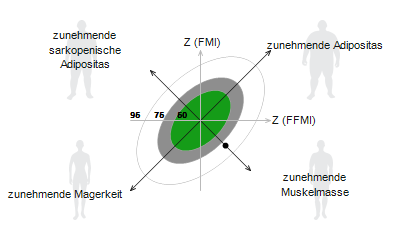 Many decisive benefits for your everyday medical work:
Medically precise measurements
Validated against the medical science gold standard.*
Health status
Determine and monitor of the body's functional status as well as metabolism.
Quick examination
A complete body analysis takes just a few seconds.
Diagnostic support
Identify and treat symptoms early.
Courses of therapy
A large measurement value memory enables the comparison of many measurements for patient therapy monitoring.

The seca mVSA fits perfectly with the seca 360° wireless product range because the previously determined weight value can be transmitted directly to the device.
This guarantees a paperless and error-free transmission of measurement values.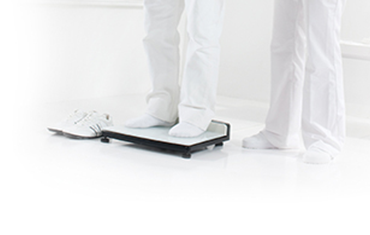 Just like height, weight can also be transmitted directly to the seca mVSA with seca 360° wireless products. This optimizes the workflow and eliminates transmission errors.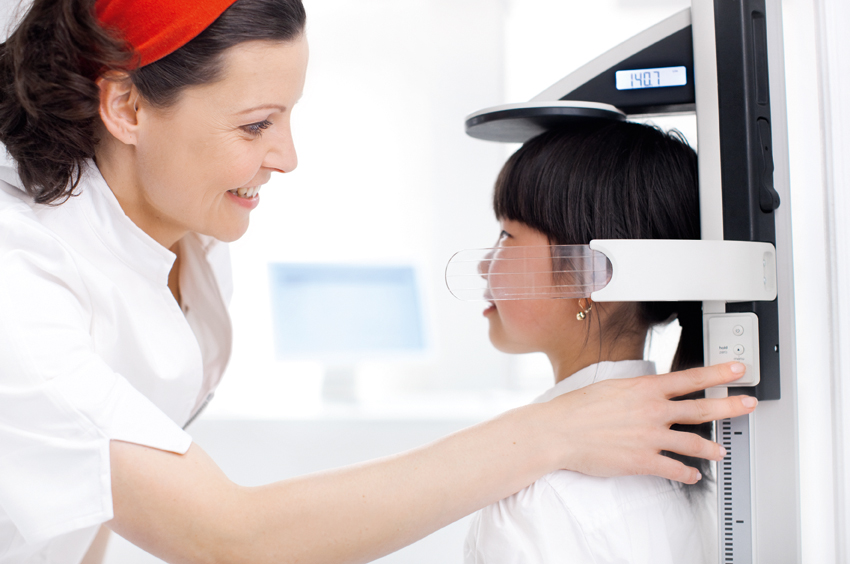 The measured BMI provides an initial health orientation for the relationship between height and bodyweight.